In the Public profile section of your profile settings, you can manage the appearance of your profile page. Here you can change your username, add a bio, map a custom domain to your profile page, or specify a home project.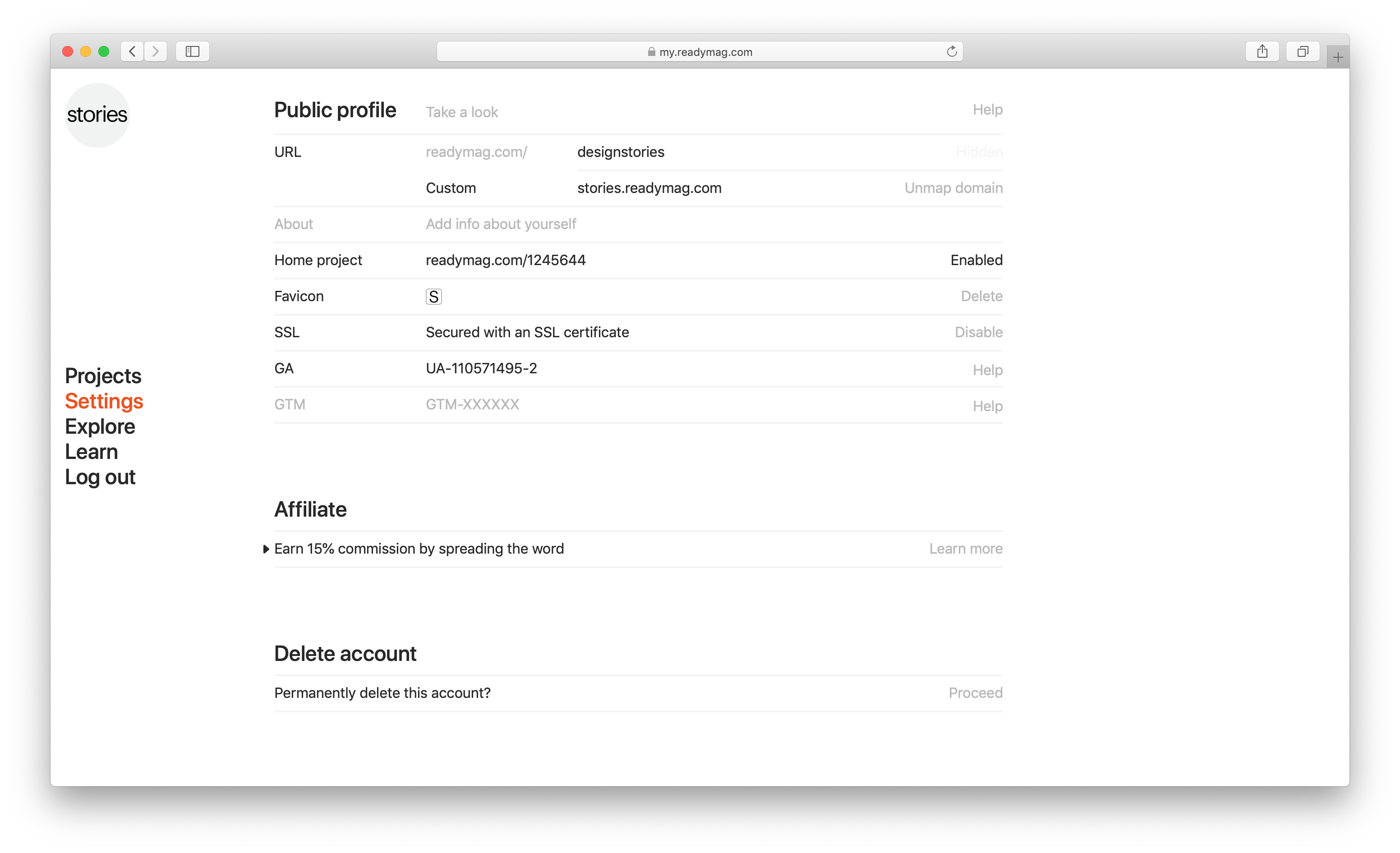 By default, profile pages are hidden from external visitors. To make your profile public, you need to enable the setting 'Add to my Public Profile' for at least one project. This can be done from the main settings tab in your project's settings.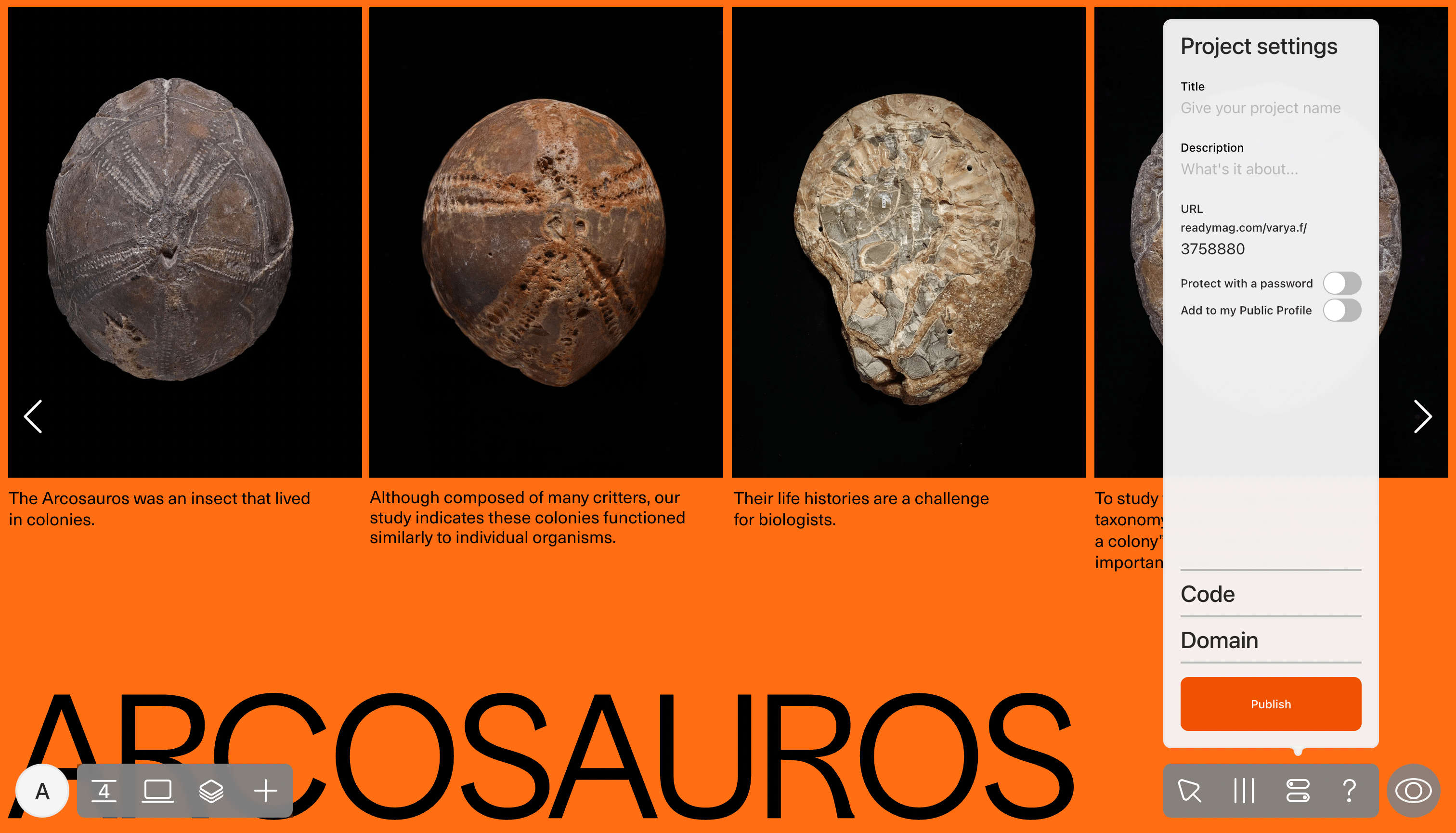 After this project is published, open the profile settings, hover over the word 'Hidden' in the URL field, then click on it to make your profile page public. Now you can share its URL to let other people view it. To see how it looks for external users, click 'Take a look'.
To hide a project from your profile, open the project settings, and disable the setting 'Add to my Public Profile'. To hide a collection from your profile, open the collection settings and click 'Make private'. If all your collections and projects are private, your profile won't be visible to external users.
Note that a public profile at Readymag shows your name and bio on top and a grid with your public projects and collections. Public profile cannot be customized any further; if the design doesn't suit you, we recommend using a home project.
Mapping custom domain to your profile page
Mapping a domain to your profile will interconnect all your published projects (as subfolders of your domain). If you want to associate your custom domain name with just one project — check the Domain Mapping article for more information.
You can map a custom domain not only to your projects but also to your profile page. Your profile page, with all your public projects and collections, will be accessible with this domain. Also, all of your projects will appear under such URLs as, e.g., domain.com/portfolio.
If none of your projects is set to be shown on the profile page, the domain will lead to a blank page.
To map a domain, go to Settings —> Public profile —> URL —> Custom. If you don't have a domain, choose the corresponding option and you'll be redirected to our partner—iwantmyname—where you can purchase a domain name set up to work with Readymag.
If you already have a domain, enter it in the corresponding field. To start using the domain, enter the following records in the DNS settings of your domain provider:
Second-level domain name: yourdomain.com
| | |
| --- | --- |
| Host: | @ |
| Type: | A |
| Point To (Value): | 54.194.41.141 |
The "www" subdomain: www.yourdomain.com
| | |
| --- | --- |
| Host: | www |
| Type: | CNAME |
| Point To (Value): | domains.readymag.com |
Then click 'Test', and if the domain is configured correctly, click 'Map'. Find more information about custom domains on Readymag here.
After the domain is successfully mapped, you can enable SSL and upload a favicon, which will be used for all projects in your account.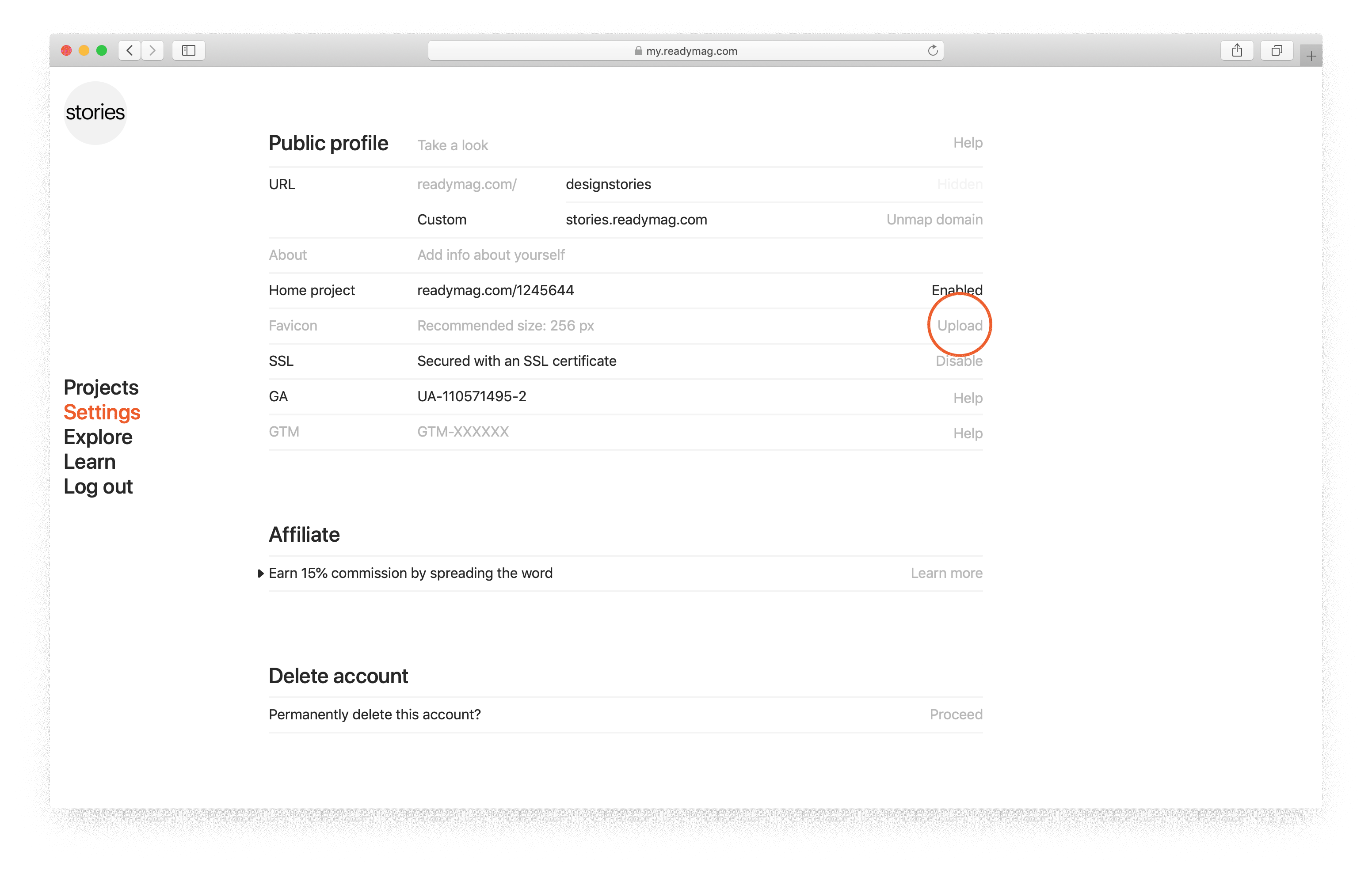 You can also specify your Google Analytics and Google Tag Manager IDs in the profile settings: they will be added to all of your projects automatically.