Websites created with Readymag show great SEO results when optimized correctly. These tips will help you to get high rankings from search engines and promote your work and ideas.
Make sure that your project is visible to search engine crawlers. To do this, open your project settings and, in the Domain tab, enable the 'Search engine indexing' toggle.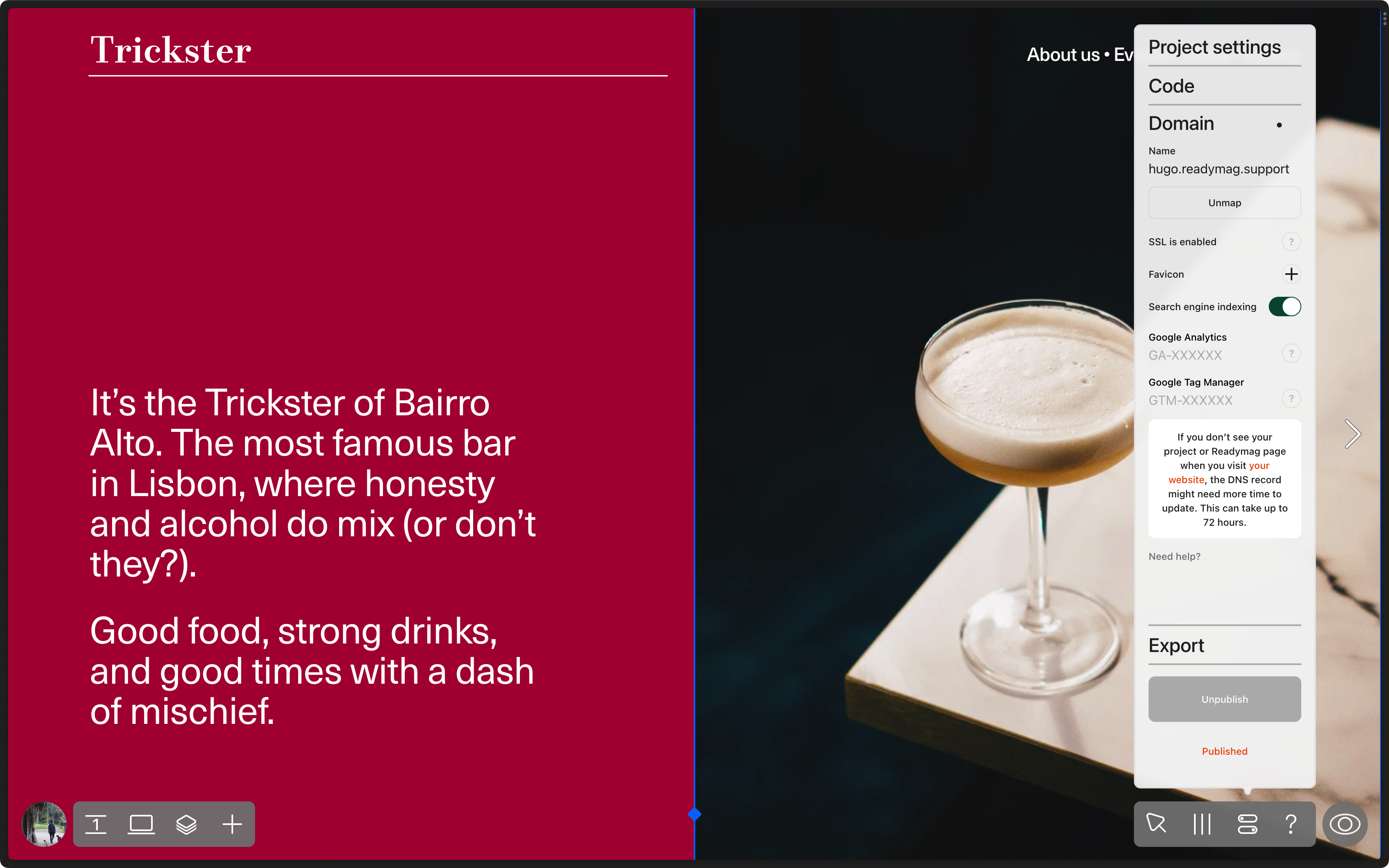 This option can only be modified if a custom domain has been mapped to your project or profile page. If your project is protected with a password, this setting will be automatically disabled.

After 'Search engine indexing' is enabled, the visibility of your website will automatically appear in the robots.txt file. At Readymag, the robots.txt cannot be edited.


Add a title and description to your project. You can do so from the project settings tab.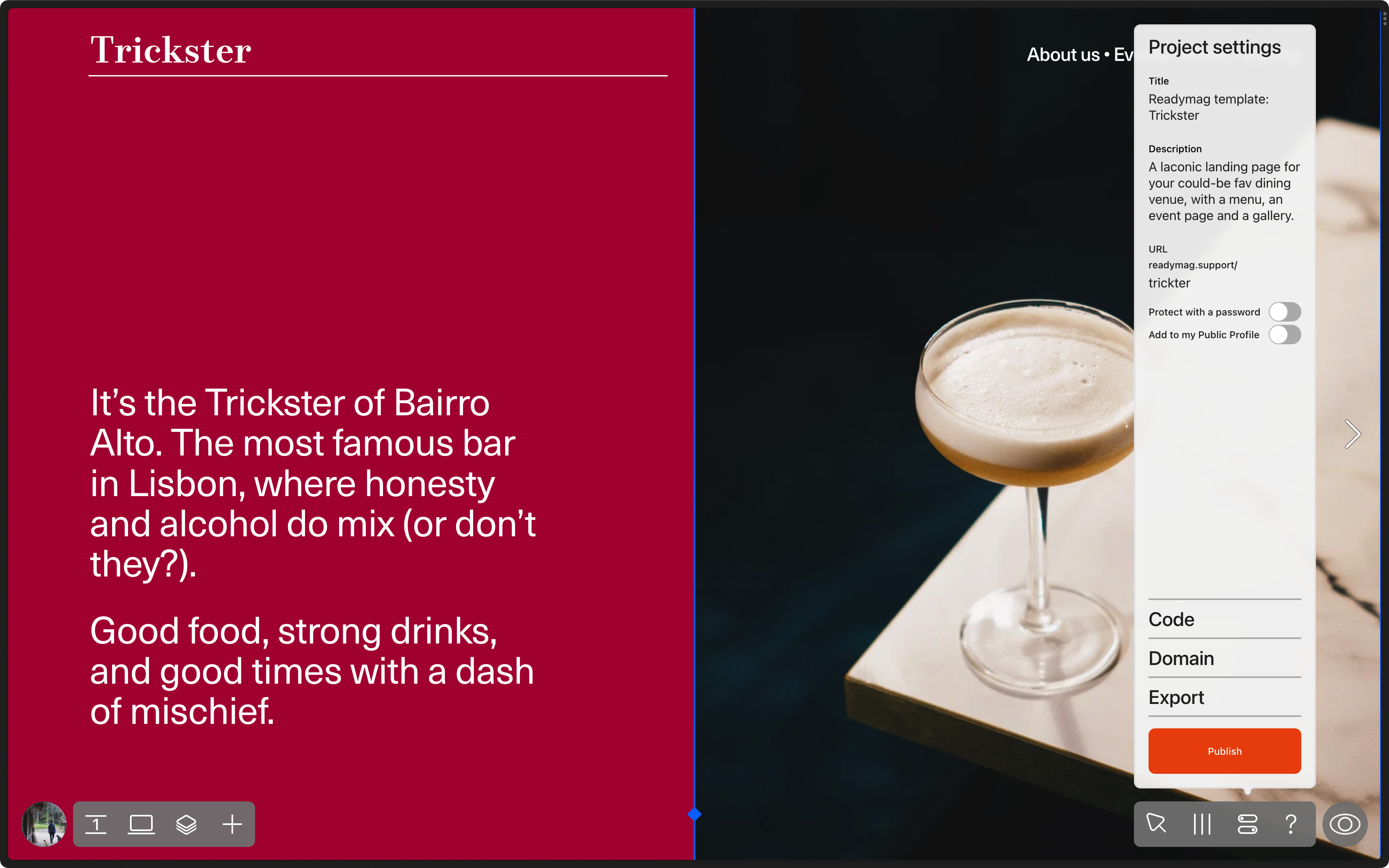 This information is helpful for your visitors and search engine bots: it will be shown in the search results next to the link to your website. You can add a title, description, and keywords to each project page if your plan includes the Sharing Settings feature (available on all paid plans except some legacy plans). To do so, open the page in overview mode, click the gear icon on the preview of the desired page, and enter your information in the SEO tab. The Sharing tab also allows you to customize the appearance of your project thumbnail when it is shared on social media.


Give each page a title that's relevant and easy to read. It helps search engine crawlers read your content, making it more convenient for visitors to navigate your project.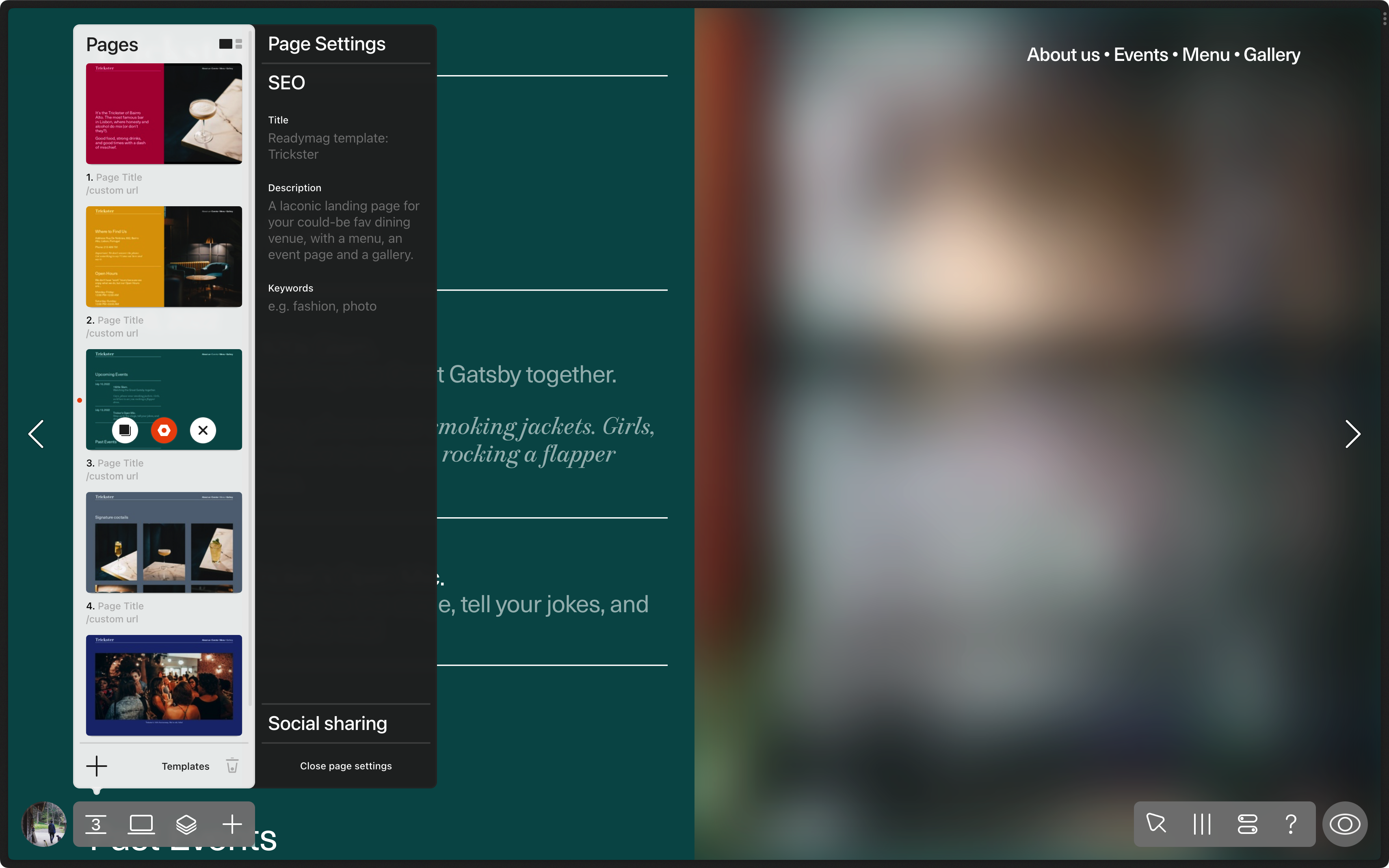 Don't forget to use <h1> and <h2> tags to bring keywords in your text to the attention of search engine crawlers.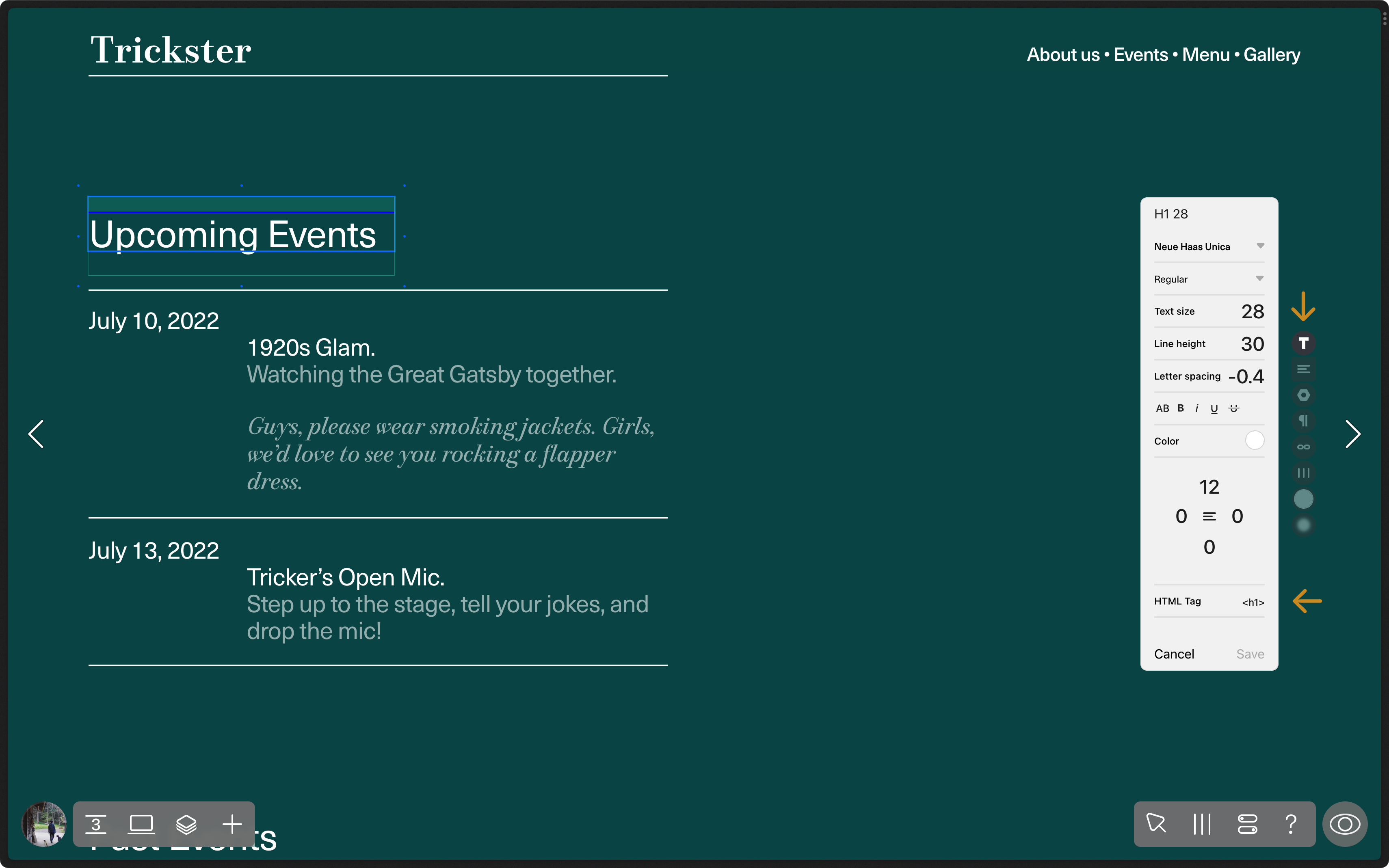 These tags can be added using styles in the Text widget: specify a tag for each style. Find more information here: Text.


Add alt tags to the images, shapes, and slideshows. You can learn more about alt tags and how to write them correctly in this article.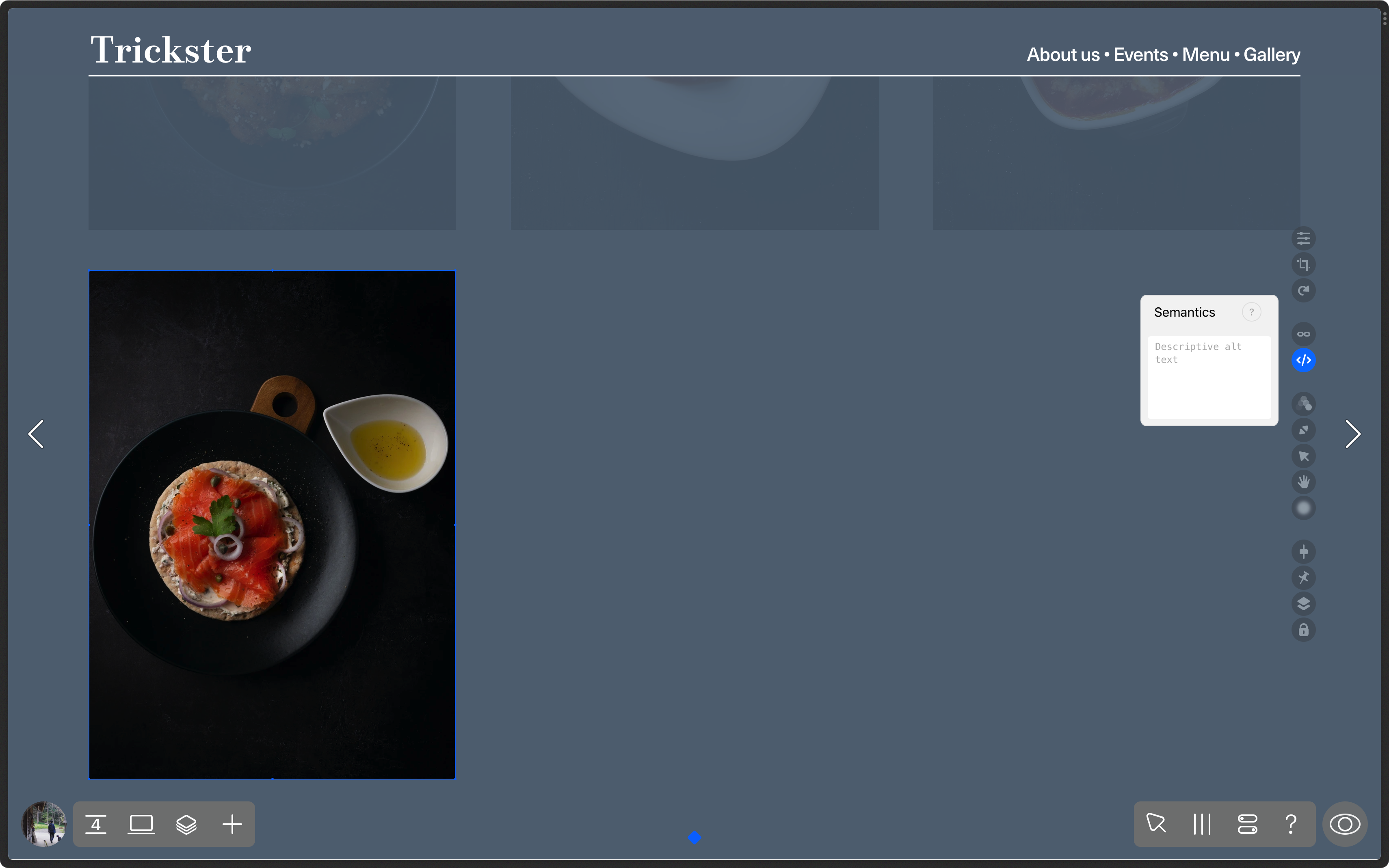 Optimize the size of your project. Search engines don't like websites overloaded with heavy images, videos, and useless code. Read our detailed guide on how to speed up your project here: How to make your project load faster.


After that, your project is ready for a visit from the search engine crawlers. It takes anywhere from several days up to a month for a website to be crawled and indexed—this process relies on the inner algorithms of search engines and cannot be accelerated through Readymag. The same goes for the ranking of your website in search results. Many factors influence this, including how unique your content is, how often your visitors open it, and how long they stay to explore its pages. However, you can force Google to index or re-index your project using their URL Inspection Tool.