SSL certificates are issued and updated automatically for custom domains on Readymag. All you need to do is connect your domain—we'll take care of the rest.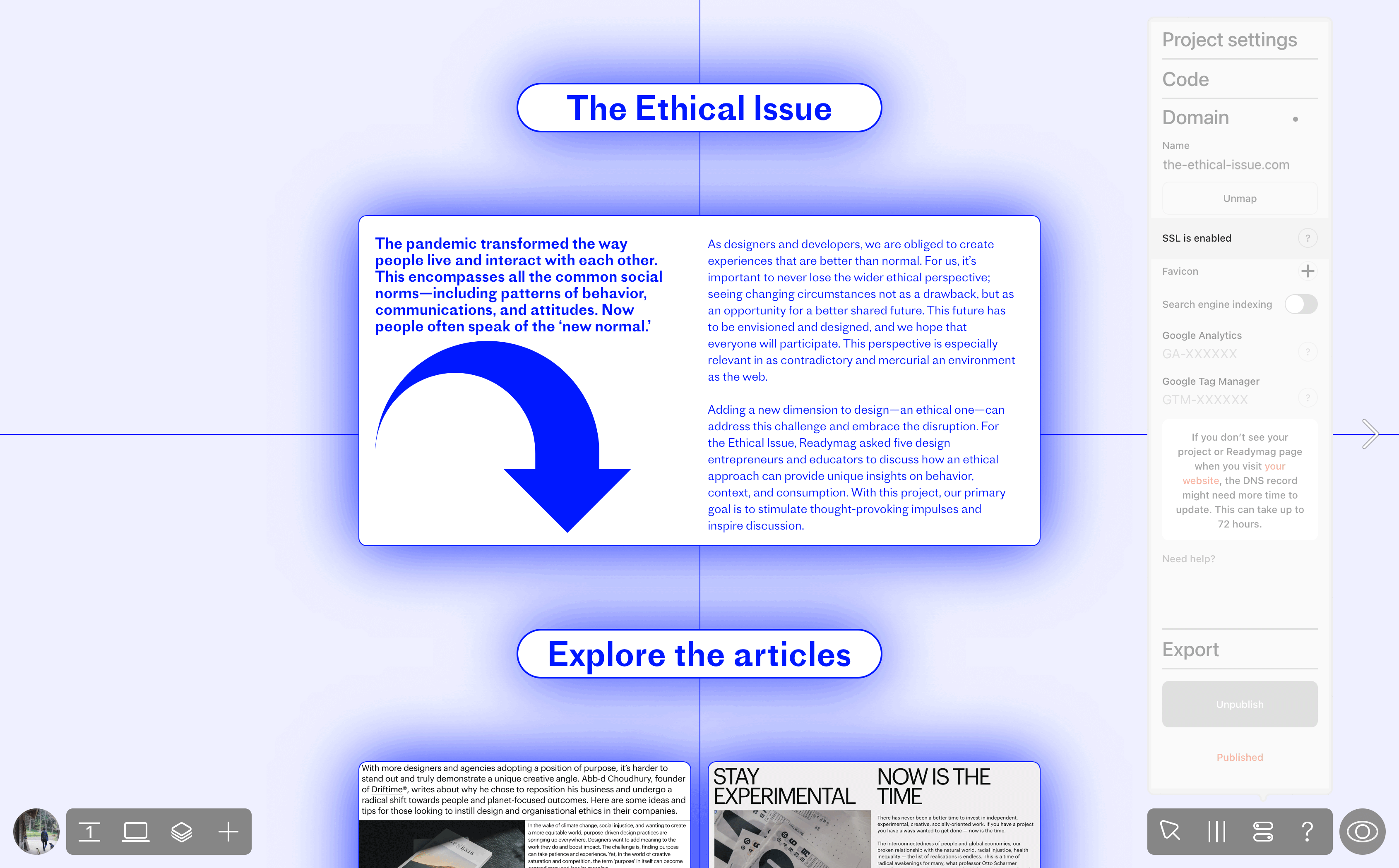 What is SSL?
An SSL Certificate provides privacy, critical security, and data integrity for both your projects and your users' personal information. Having an SSL certificate installed on your project improves its credibility and search engine rankings.
A reliable indicator of a correctly installed and configured SSL certificate is the https:// part of a URL. Https is the secure version of http, which is the protocol governing how data is sent between browsers and websites.
The 's' at the end of https stands for 'secure', meaning all exchanges of information between the browser and website are encrypted.
Which SSL certificates are used on Readymag?
SSL certificates for domains on Readymag are issued by ZeroSSL and Let's Encrypt.
Can I connect my own SSL certificate?
Custom SSL certificates are not supported right now.
How to enable SSL for my project?
An SSL certificate is issued automatically when you map your domain to Readymag. To ensure this process goes smoothly, please check your DNS settings first. If there are no CAA records, no further action is required on your end.
If you see any CAA records, delete them completely or add two records for ZeroSSL and Let's Encrypt:
| | |
| --- | --- |
| Host: | @ |
| Type: | CAA |
| Flags: | 0 |
| Tag: | issue |
| Point to (Value): | letsencrypt.org |
| | |
| --- | --- |
| Host: | @ |
| Type: | CAA |
| Flags: | 0 |
| Tag: | issue |
| Point to (Value): | sectigo.com |
SSL won't connect, what should I do?
It can happen sometimes, e.g., when re-mapping your domain. To fix this issue, please open your DNS settings and add the CAA records as shown above.
Also, make sure that iPv6 isn't enabled for your domain. This is indicated by AAAA records in your DNS settings. If you see such records, delete them.
Domains with an underscore (e.g., my_portfolio.ru) cannot be secured by SSL certificates.
Make sure that all links inside scripts in Code Injection, videos, or other embedded resources have SSL enabled.