To cancel a subscription, open your profile settings. In the Current plan section, click the Change plan button. You'll see your plan details, such as subscription period, card details, and next invoice date. Click the Cancel subscription button — your current subscription will be canceled after the end of your billing period. In order to reinstate the automatic billing, click Enable auto-renew.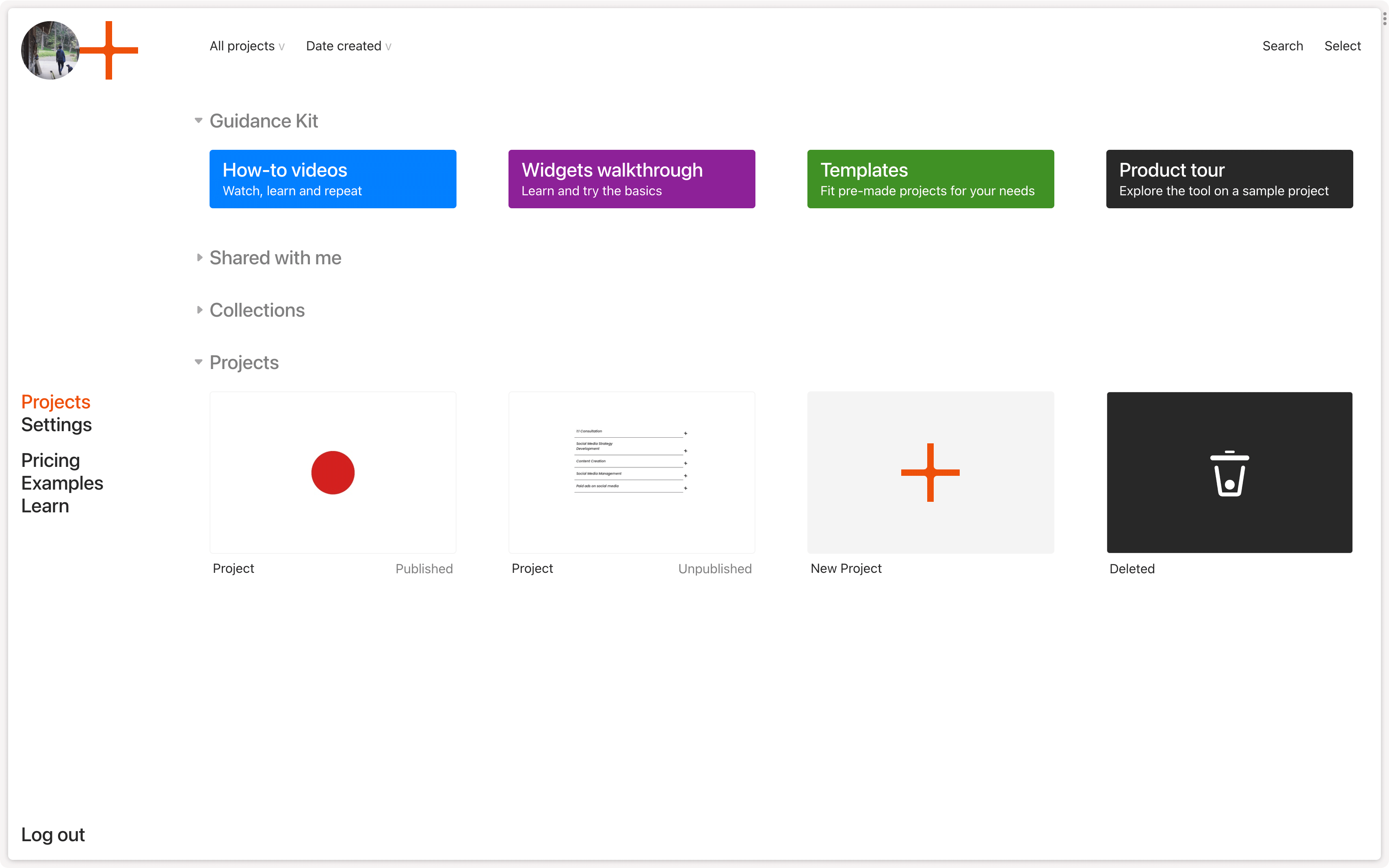 To keep one of the paid plans active, your payment must be accepted on the date shown in the Billing section in your profile settings. Readymag sends an email notification two days prior to the billing date.

If your payment fails, you have two more days until your subscription expires. Readymag will attempt to process the payment again with the same card credentials, once per day.

When your subscription expires, you will be automatically downgraded to Free plan. All your published projects will continue to be visible to the public, and we will not delete anything from your account without permission.
After you cancel a paid subscription
Creating projects
You cannot add new projects if you already have at least one published project. All published projects will stay online. If you decide to edit an existing project and republish it or publish a new one, you will have to unpublish all other projects in your account.
Creating pages
You cannot add new pages to projects that already have 10 or more pages. The published projects with 10+ pages will remain accessible to your visitors.
Private projects
All projects with Password Protection will remain private until you turn off a switch or change the current password on the Privacy tab in your Project Settings.
Google Analytics
All data immediately stop transmitting once your account is downgraded. If you switch back to one of the paid plans, data collection will resume automatically for the same Tracking ID.
Viewer and navigation settings
Default navigation elements and Readymag branding, which you disabled on the Viewer tab in Project Settings, will appear on all your projects. They cannot be hidden on Free plan.
Custom domains
Published projects can only be viewed with a readymag.com domain, so make sure to unmap any custom domain names:

Open your Readymag profile, click Edit Profile, and go to the Domain section to unmap a domain from your entire Readymag account.

Open your Project Settings and click the Domain tab to unmap a custom domain from a particular project.

If you forget to unmap the domains, they will display the following message to visitors until you unsubscribe: 'Website is offline'.

Font upload
You cannot use any uploaded fonts in your Library, or upload new WOFF files. All custom fonts remain visible in published projects. However, if you make any changes and re-publish the project, WOFF fonts will be replaced with system fonts.
Sharing and SEO settings
All Open Graph meta tags and Sharing attributes that were customized in the page settings will remain active. However, you won't be able to change or update them further—only Restore to their defaults.
Code injection
All custom HTML, JavaScript, and CSS code will continue to work in published projects, both with global Project Code and Embed & Code widgets. However, if you make any changes and re-publish the project, custom code will stop executing.
Export to HTML
You won't be able to download the source code of your projects or export to PDF.
Collaboration
All shared projects are no longer accessible to other collaborators, but you can still view all invited collaborators in the Teamwork settings. If you upgrade to one of the paid plans again, shared projects will become available to them automatically.