Readymag paid plan users can get one free .xyz domain for one year. We will send a special promotional code to your email address if you have an ongoing subscription. To receive it, make sure you are subscribed to Readymag newsletters.
I haven't received a promo code
It can happen if you have subscribed to our newsletters after purchasing a subscription. In this case, please contact our support team—we'll be happy to help.
Registering a domain
Register a free domain from our partners at gen.xyz, and use it for your Readymag project.
Go to their website, enter the preferred name, and click 'Register.'

Once you have encountered a suitable option, press the 'Go to Checkout' button.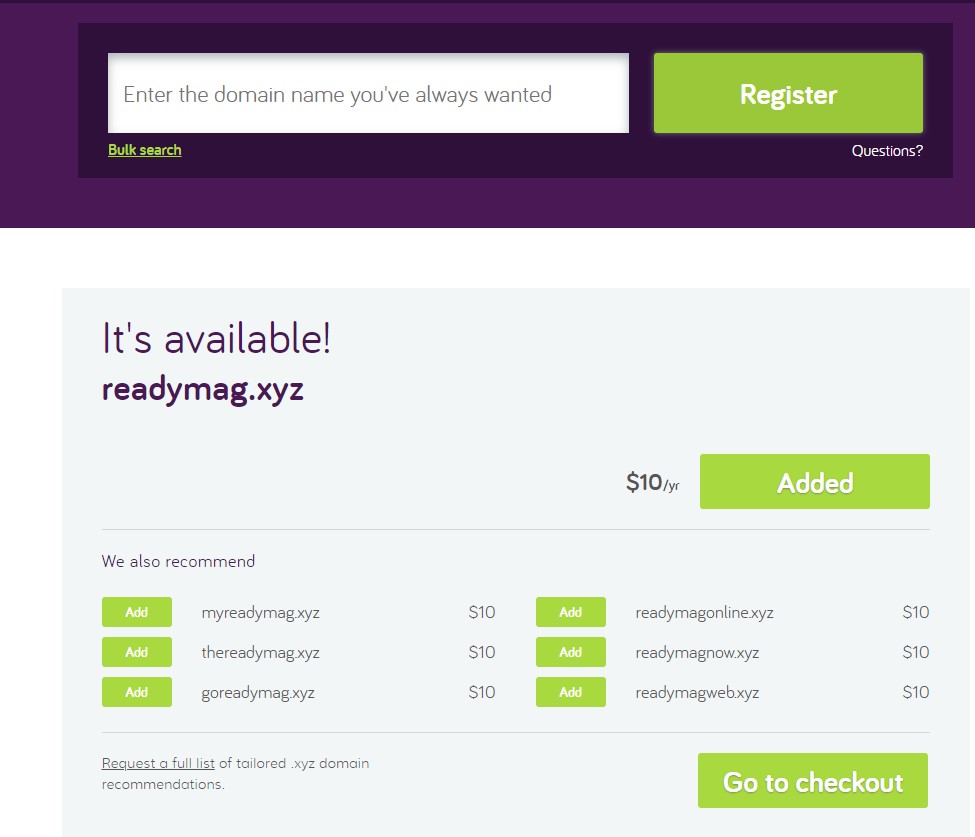 Since the promotion is valid for one year, make sure to change the Term Length to one year. Click 'Next: Recommended Add-Ons'.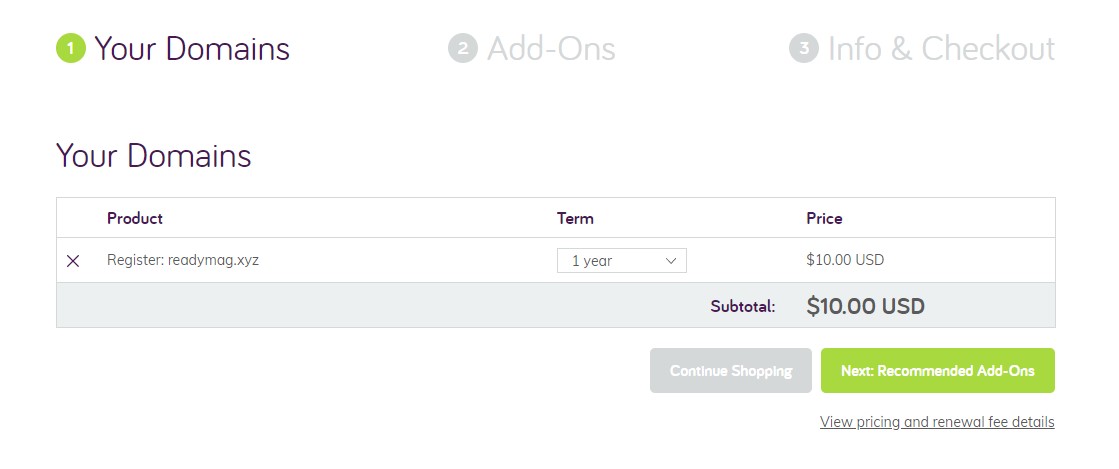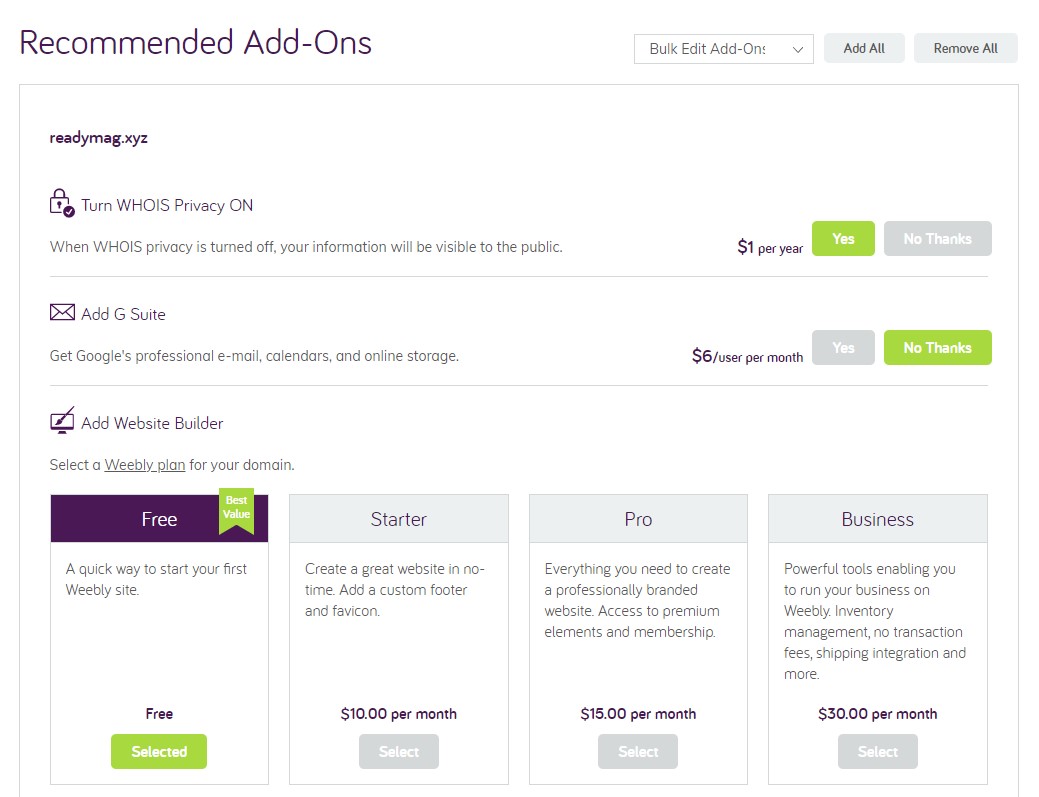 Free WHOIS Privacy is included through our partnership with .xyz, and it will be automatically added to your cart.
Scroll down and select 'Next: Information and Checkout'. The total due should be $11. There will be an option to apply the promotional code you will receive in an email from Readymag. Type it in the field and press 'Apply Code'. It will change the total amount to $0.00. Ensure to fill in your contact details correctly. Select PayPal as the payment method, and then click 'Submit Order'.
You will receive an email with a verification link you will need to follow to complete the domain registration. Once this process is done, you can map the domain to your project.
Mapping the domain
Login to your gen.xyz account and click 'Manage' next to the domain you wish to modify. Select 'Use default nameservers' in the Nameservers section, and then click 'Manage DNS'.
Step 1: Configure domain name
Locate 'Advanced settings for myxyzproject.xyz'. Then select 'A record' from the drop-down menu under 'Record Type'.
Leave the 'Host Name' and 'Priority' fields blank. In the 'Address' field, input 54.194.41.141. Click 'Save Changes'.

Now go to your Readymag account, locate the domain tab, and type your domain. This step will vary depending on where you want to map your domain. It can be mapped to:
directly to one of your projects (only this project will be associated with your domain):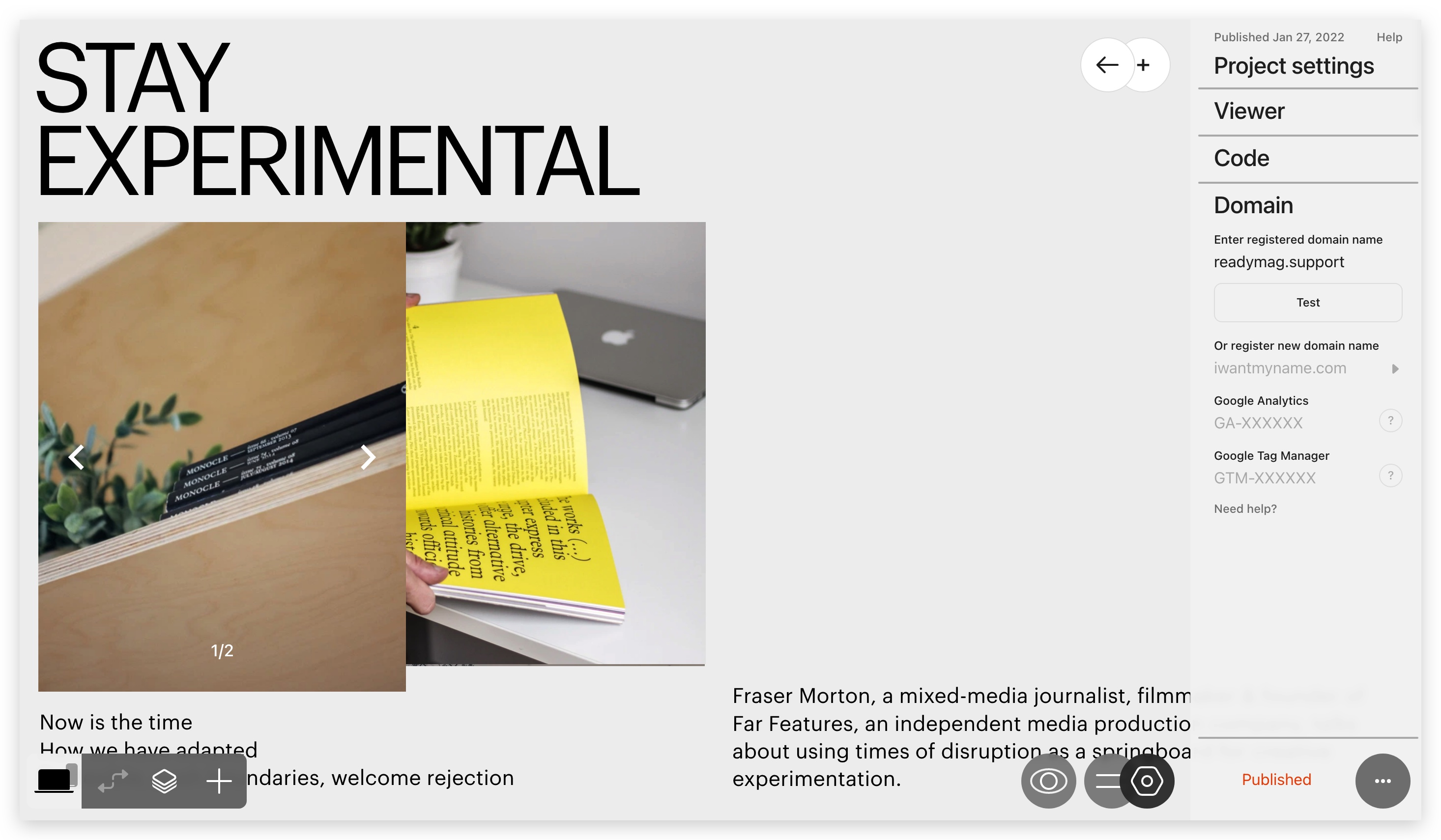 or your Public Profile (all the projects within your account will be presented as subfolders of this domain. You can also set a Home project to appear under the root domain):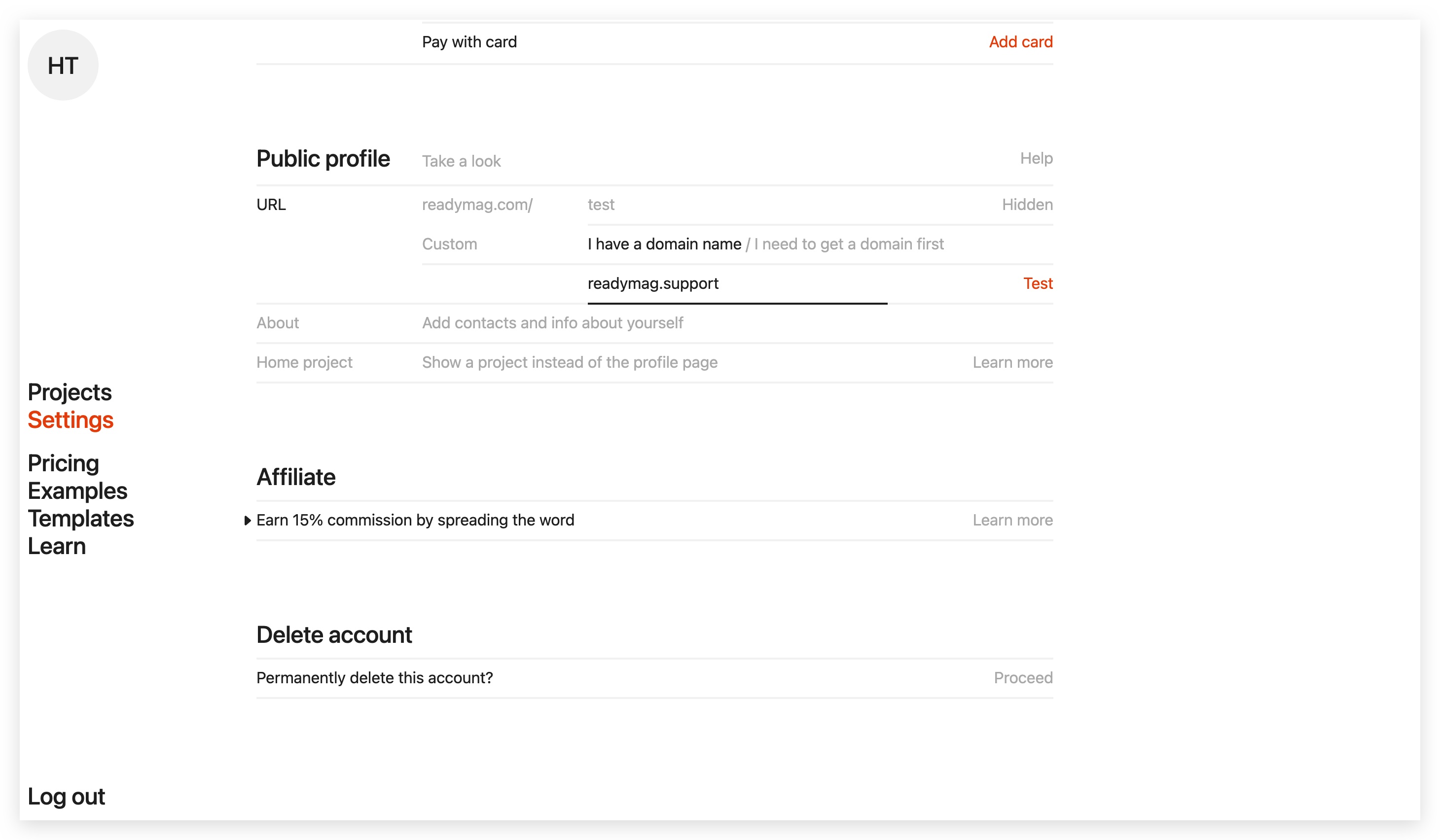 Step 2: Verify your domain name
Let's continue as if you were about to map it to a project. Now, click 'Test' to receive your domain verification key.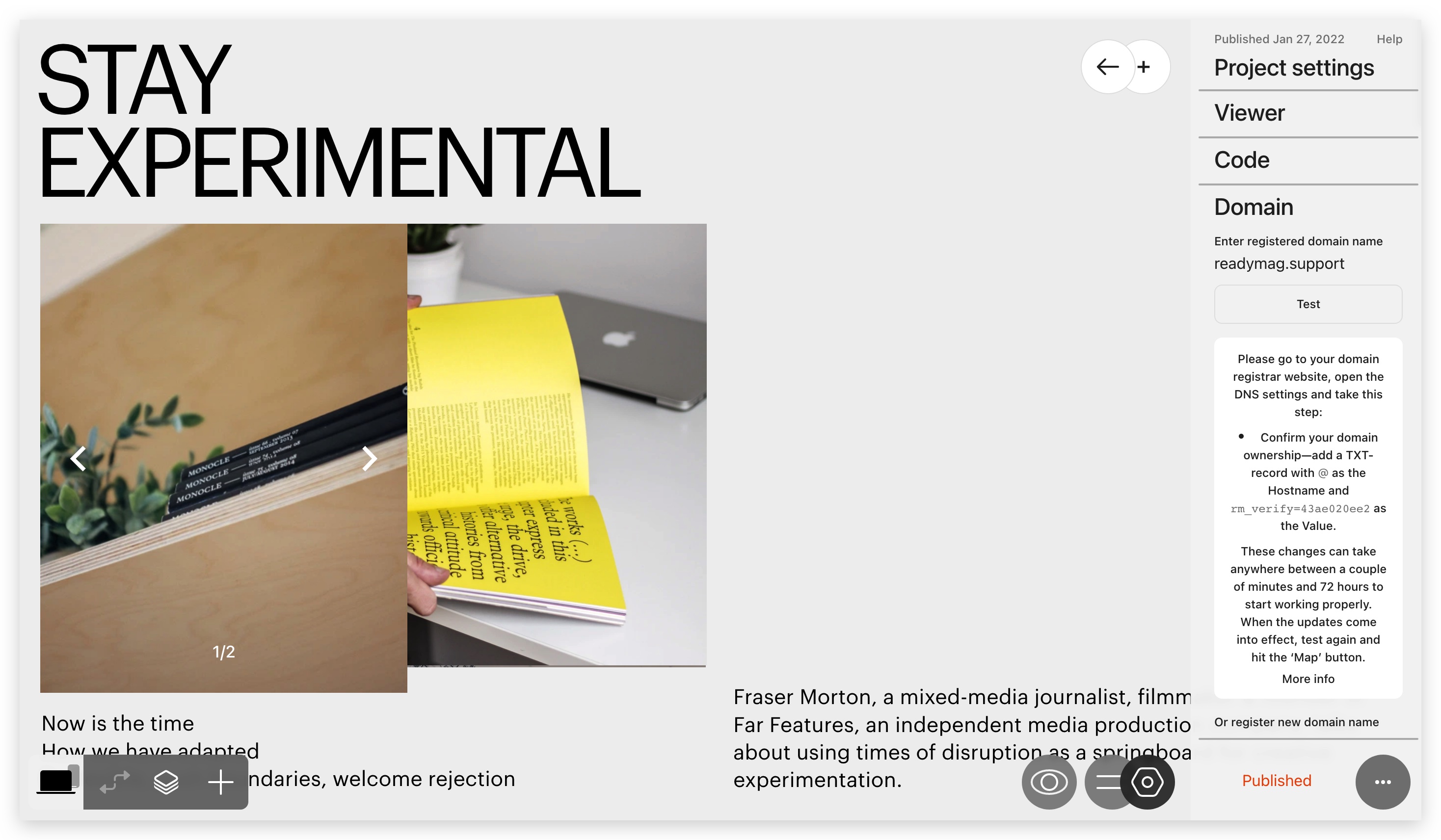 Copy it, return to your DNS settings panel on .xyz, and create an SPF/TXT record with the following parameters, and click 'Save Changes':
| | |
| --- | --- |
| Type: | TXT |
| Host: | @ |
| Value: | your verification key |
Step 3: Wait and test
If all DNS records are entered correctly, your domain will be connected to Readymag servers within a couple of hours.
It may take up to 24hrs for DNS records to propagate. Once the domain is correctly linked, you will be able to use it on Readymag—proceed to Step 4. Otherwise, check the DNS settings again or contact your domain provider's support.
Step 4: Map domain
Return to the domain settings of your Readymag project (or profile settings section if you are trying to map it to your profile), then click 'Test'. If the domain is configured correctly, the 'Connect' button will appear. Click it to complete the mapping process.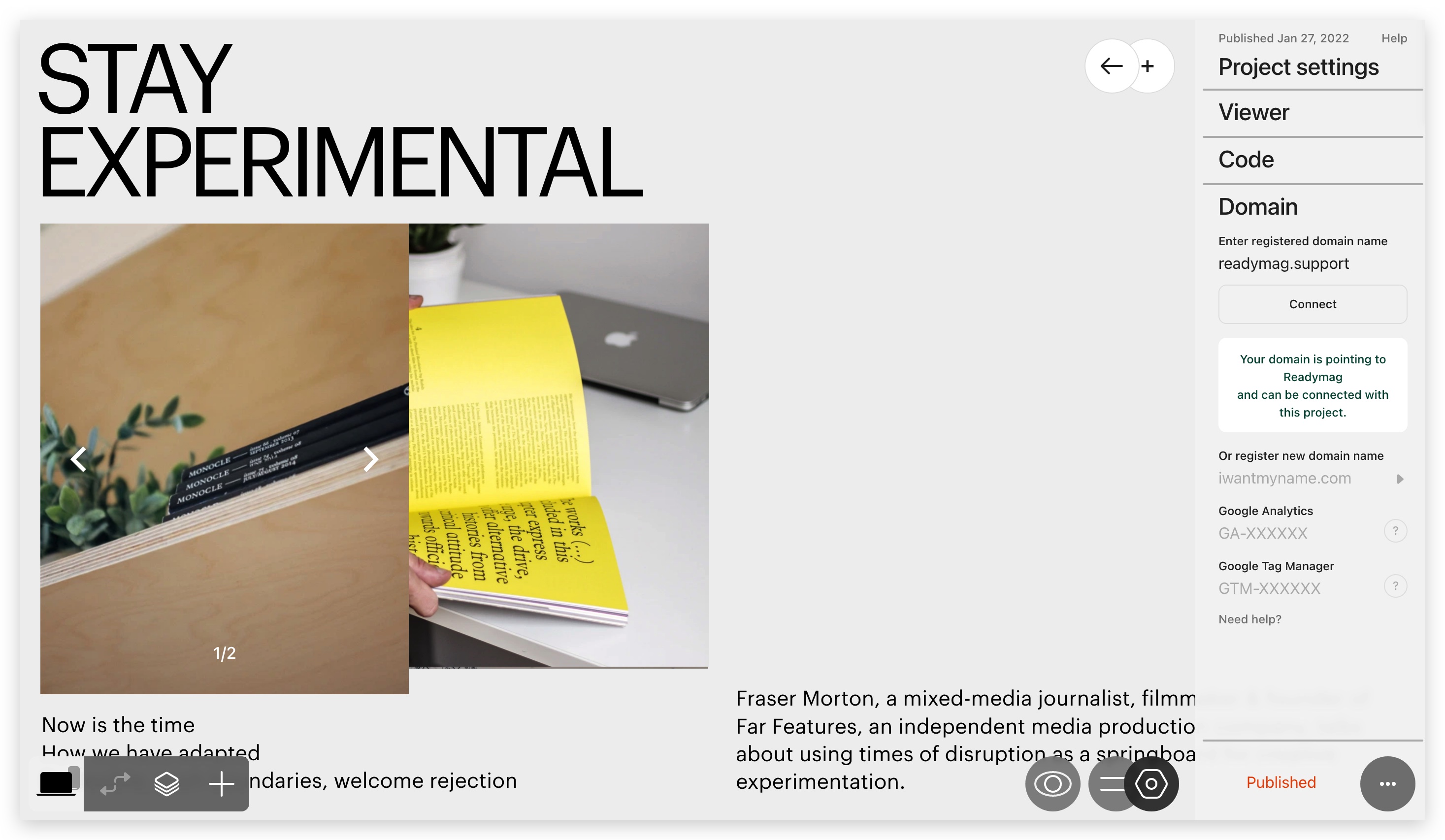 Once done, you are welcome to add a favicon. SSL certificates are issued and updated automatically for custom domains on Readymag. All you need to do is map your domain and we'll take care of the rest. You can find more information here.
Additional steps
Create more A-type records if you want to add other subdomains; for instance, portfolio.domain.xyz.
| | |
| --- | --- |
| Host: | portfolio |
| Type: | A |
| Point to (Value): | 54.194.41.141 |